November 18, 2020 - Dedication of the Basilicas of Sts. Peter & Paul
Double Major Feast
Joe Biden, a Newchurcher Denied the Novus Ordo Cookie and Kool-Aid in the U.S.
Is No "Catholic," but an Apostate Who Supports Abortion, Sodomy, and Atheistic Communism
From: The TRADITIO Fathers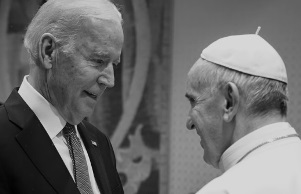 Joe Biden & Francis-Bergoglio
Two Apostates from the Catholic Religion
Plot the Downfall of Catholic Morality in the World
Joe Biden (Left), Who Could Become the U.S. President
Supports Government-funded Abortion
Supports Homosexuality and Sodomy
Supports Atheistic Communism and Dictator Xi Jinping
Francis-Bergoglio (Right) Stands for the Same Immoralities
True Catholics around the world have been shocked at the possibility that Joe Biden could become President of the United States, although the outcome of the November 3, 2020, U.S. Presidential election is still in doubt,
Donald Trump, a mainline Presbyterian-Episcopalian, has been, in terms of his moral policies, the most Catholic of presidents that the United States has had, with the possible exception of John Kennedy. Trump has stood strongly against abortion and infanticide. He has vocally combatted atheistic Communism with a clarion voice not heard since Fr. Charles Coughlin, Fr. Leonard Feeney, and Bp. Fulton Sheen. Trump instituted an international commission to protect the lives of Christians in the Middle East and elsewhere. Trump took official recognition with a presidential proclamation of Ash Wednesday. Trump had, if not traditional Catholics, several ultra-conservative Newchurchers on his White House staff.
Joe Biden, on the other hand, claims to be a "Catholic." Of course, he is not a Catholic, but an apostate of Newchurch, which is barely a Protestant sect. Biden has fallen short even of Newchurch standards. He has been denied the Novus Ordo cookie and Kool-Aid in several Newdioceses in the United States because of his pro-abortion policy. Biden even wants the government to fund abortions. Biden is soft on atheistic Communism. During the presidential campaign evidence was published showing that Biden took what were essentially bribes from the Communist dictatorship of Xi Jinping. Biden publicly, officially, and proudly "married" two sodomites and has hired a "transsexual" for his purported transition team. [Some information for this Commentary was contributed by the National Catholic Register.]
True Catholics, clueless of religion as most are today, Biden will wrongly be viewed as a poster boy for "Catholicism," and his public advocacy of gross Mortal Sins will be viewed as the "book" on what is Catholic. Surely, Biden's fellow traveler, the apostate Marxist/Modernist Newpope Francis-Bergoglio, will do nothing but support Biden and his anti-Catholicism. He already has. It remains for traditional Catholics never to fail to educate and speak out about true Catholicism with their family, friends, coworkers, and the general public.