November 14, 2020 - St. Josaphat, Bishop & Martyr
Double Feast
Francis-Bergoglio Slips and Admits His Collusion
In Newchurch's Great Sex & Embezzlement Holocaust
From: The TRADITIO Fathers
Francis-Bergoglio
Francis-Bergoglio Was Mute
While the Paedophile Newcardinal Theodore McCarrick
Ravaged Children and Young Newseminarians
Newvatican's November 11, 2020, Report on the Affair
Indicates that Bergoglio Knew about McCarrick's Predations
But Dragged His Feed on Stopping Them
Because McCarrick Had Supported the Unknown Bergoglio
In the Newpapal Election of 2013
And Later Extorted Funds for His Sinking Regime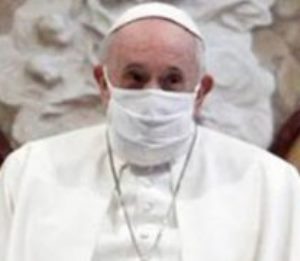 One day after the release of the devastating November 10, 2020, Newvatican report on the Paedophile Newcardinal Theodore McCarrick, of Washington, D.C., Francis-Bergoglio inadvertently admitted to the truth by stating: "I renew my closeness to the victims of sexual abuse." Indeed, he has been close. The report shows that it has been under his Newpapacy, as well as that of his two predecessors, JPII-Wojtyla and Benedict-Ratzinger, that child victims of sex crimes have been consistently ignored, berated, and even vilified in order to protect the likes of McCarrick, the arch-paedophile, who sodomized children and young Newseminarians along the East Coast for more than two decades.
There can be no real doubt that all three Paedophile Newpopes knew full well what McCarrick was doing. Laypeople, presbyters, and Newbishops have publicly displayed letters that they had written to Wojtyla, Ratzinger, and Bergoglio about McCarrick, who encapsulates the sex crimes that hundreds of thousands of Newchurch clergy around the world have been perpetrating, mostly since the Vatican II Anti-council (1962-1965), which vitiated the discipline of the Church in favor of unquestioning "mercy" to Newchurch criminals, but no real mercy to their victims.
Bergoglio's November 11, 2020, statement was his expected cover-up of his role over the last seven years in Newchurch's Great Sex & Embezzlement Holocaust, which has continued, and even accelerated, under his regime, while for a generally clueless press he affected the visage of some guiltless avuncular personality to conceal his deep stains of guilt. [Some information for this Commentary was contributed by the Zenit News Service.]
The report itself ignored significant evidence of Bergoglio's complicity because, after all, he controls the report, which was conducted not by an outside, objective agency, but by the Newpope's own servants. Yet McCarrick's crimes were so widespread and so public that even his extortive fundraising and electoral support for Bergoglio could not save him.
A Newvatican congregation was forced to concede on January 11, 2019, that McCarrick was guilty of:
sexual solicitation in the invalid (fake) New Order "sacrament" of "Reconciliation"
sins against the Sixth Commandment with minors (sodomy, rape, sexual assault)
sins against the Sixth Commandment with adults (sodomy, rape, sexual assault)
abuse of power as a presbyter, Newbishop, and Newcardinal
True Catholics, the paedophile McCarrick was not even fired by Bergoglio, who merely "accepted his resignation from the Newcardinalate." McCarrick was supposed to enter into a "life of prayer and penance," but it seems that McCarrick instead was posted to a small house near a school where children attended. The latest few crocodile tears from Francis-Bergoglio just make the stark, even satanic, evil of his Newchurch regime stand out all the more.